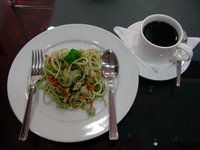 having spaghetti Anglio Olio with Black Coffee juz now..*yummy*
Baru habis meeting.. otak pun tgh mengong lagi nih.. mana taknya, tetiba je dapat sedebuk paperwork lagi.. yang lama pun terkial-kial nak disiapkan..*isk.. Hm, btw, most probably, next week ads utk our major project release kut.. pastu sure bz bagai nak rak.. Harapnya tak clash dgn outdoor xtvt yg aku dah planned dgn the Godongs (oh pls lah jangan.. boleh jammed otak nih kalau tak keluar dari KL lebih dari seminggu).
Ada satu mender yg memalukan aku hari nih. Well, remember last week aku pegi mendaki kat Nuang? Kat sana ada banyak agas (some sort of nyamuk punya spesis la jugak).. and yep, aku kena 'kissed' dgn agas kat sana.. tak banyak.. ada lah tiga pat bintik kesan gigitan agas tu kat kaki, tangan & leher. Petua orang tetua, kalau kena gigit dgn agas, jangan di garu.. (dan aku tak penah garu pun ok).. tapi maybe malam tadi, aku ter-garu masa tengah tido (agaknya lah - tak ingat).. dan hasilnya pagi nih, aku noticed kat leher aku ada spot merah kat bebtul kat leher (besar giler).. macam love-bite siut!..*malu*.. Maka terpaksalah aku belit skarf kat leher sepanjang hari nih.. kaber sey.
Aiyah.. have to put the fullstop here lah.. esok lusa lah sambung plak. Selagi keje nih tak abis, selagi tu serabut je paler aku nih. Chiows.
mcm real kan?..*lol*..